Transform the way your Jaguar drives
Dramatically improved performance and economy with smooth, seamless gear changes. Your Jaguar always in the correct gear waiting to unleash its true performance.
Relaxed, effortless motorway cruising.
This is the reality of replacing the aged three speed automatic transmission in your classic Jaguar with our state of the art six-speed automatic for all V12 and XK 6 cylinder cars.
Motor legends can make your Jaguar drive as it always wanted to. And you want it to.
Improved acceleration and mid-range performance
Noticeable reduction in fuel consumption
Relaxed motorway cruising – 1,800 RPM at 70mph
Mapping of transmission to customer requirements & driving style
Optional dual mapping with switchable Sports mode
No visible sign of conversion with original transmission cover and gear selector
Optional tiptronic style shifter and/or paddle shift
Conversion of manual transmission cars to automatic
2 year / 20,000 mile guarantee
What you get with the conversion
New or low mileage used Ford 6R80 6-speed automatic transmission
Uprated transmission cooler
Custom transmission mount
No modifications to the cars body or chassis (XJ and XJS) so completely reversible
Adapter plate to mate transmission to Jaguar cylinder block
New propeller shaft
New lightweight high-torque starter motor
Modified exhaust system
Original transmission degreased and returned in a storage crate
We only offer this transmission upgrade as a fully
fitted conversion including road testing and setting up
Conversion price from £10,450 + local taxes if applicable
Click here to read the road test of our 6-speed V12 E-type in Jaguar World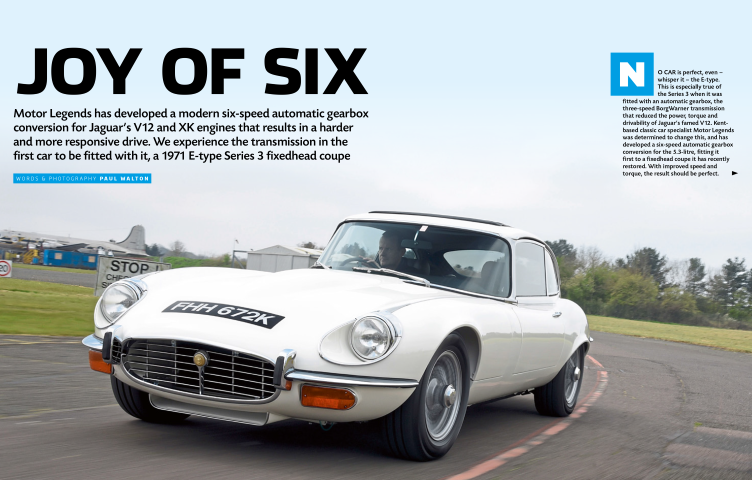 Visit our Facebook page for more updates